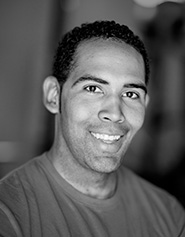 Elijah Johnson.
Elijah is passionate about helping people, both through training and as a full-time fireman. He is a corrective specialist, particularly for clients suffering from recurring muscle pain or injuries. He also serves as one of our go-to trainers for clients just starting out because he is compassionate and patient, making clients feel comfortable, eager to learn, and accountable to their goals.
Testimonials.
"As a practicing physician, the training fundamentals that I've learned at Studio Revolution have not only been transformative personally but also informed the way I advise my patients. The emphasis on functional fitness and strict attention to proper form has improved my day-to-day quality of life from the outset and has allowed me to avoid the injuries that so often plague middle-aged trainees. This has translated to much safer and effective fitness advice that I've provided to my often very chronically ill patients."
"I was fortunate to be introduced to Studio Revolution and their team through a friend. After a long professional soccer career, my body was struggling to do simple athletic tasks. I had almost accepted the fact that playing pick-up soccer or basketball games was no longer possible for me. Golf was even starting to be a struggle. As a 35-year-old ex-athlete, this was a hard reality to swallow, physically and mentally. However, Richard, Jeff and their staff have been nothing short of amazing in their work and commitment to my needs.   They have completely transformed the way my body feels and operates by combining a personalized physiotherapy process with a progressive strength-training program. The results were almost instantaneous. To be physically active again is not only a huge boon for my physical health, but perhaps greatest for my overall happiness."
"I have been a client of Studio Revolution for the past 4 years, and it has made a positive difference in my exercise/work-out routine. Like most people, I have choices in where I work-out. I have been a happy client at SR because my training program is tailored to my personal needs and guided by experienced, professional trainers. I am in better shape today than I was 5 years ago, and I am confident my time and investment at SR are the reasons why."
"Studio Revolution is a one-stop shop. Without them I would not be a reigning Xterra National champion in my age group. They are caring professionals working as a team to help improve my performance and health. I appreciate the fact that my strength coach and physical therapist work together, observing my training, to make me the best athlete that I can be. As a coach, I encourage my athletes to also take advantage of their team of experts. Thank you SR for making this year such a success"
"I truly appreciate the approach demonstrated by the training staff at Studio Revolution. They pay close attention to form ensuring you make progress toward your goals without risking injury. I've worked with great trainers in Dallas and in New York City – and the quality of the training at Studio Revolution is as good as it gets. Raleigh is lucky to have a training facility of this caliber."
ready to train with Elijah?